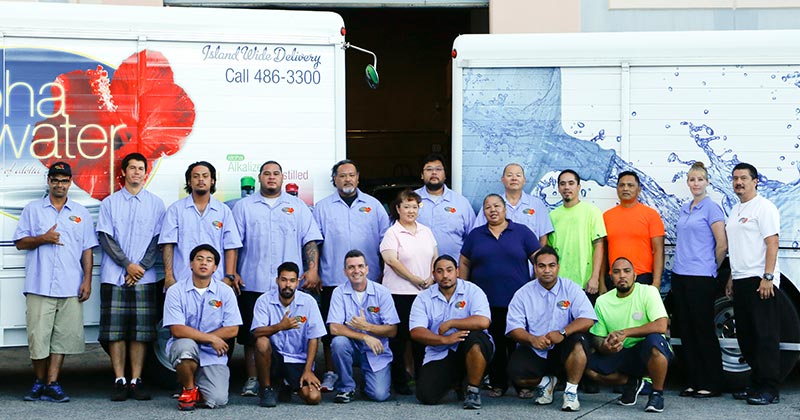 Water Delivery
Residential Accounts
Aloha Water Company specializes in delivering Aloha to your door. We offer island wide delivery of all of our pristine water products. Up-stairs, down-stairs, around the back, in the garage, help switch your bottle, not a problem! Our staff enjoys going that extra mile to ensure that our customers experience nothing but satisfaction and Aloha.
Commercial Accounts
Aloha Water Company is here to service all of your business's water needs. Whether you are a small office or a large industrial operation Aloha Water has everything you need. We can keep your clients and crew hydrated with our array of water products from small 500ml bottles to our larger 3, 5, and even 6 gallon sizes. We also have an assortment of top of the line dispensers and storage solutions to assure not to take up valuable work space.
Retail Products
Bring a little Aloha to your establishment. Aloha Water Company now offers our 500ml 24-pack for resale in your retail locations. We can also set up your retail location with a bottle exchange program of our 3 & 5 Gallon sizes, offered in Purified, Distilled, and Alkalized Water. It's guaranteed to increase the foot-traffic and return customers to your retail location.
In-Home Systems
Aloha Water Company sales, installs, and services Point-of-Use systems for your home's water quality. We offer the Hydrotech 1240 Reverse Osmosis system. The Hydrotech 1240 is a 4 stage purification system including particulate, pre and post Carbon, and Reverse Osmosis (optional UV available). We also offer water softening/conditioning solutions utilizing Fleck Control heads, by Clear Water Corporation, along with mediums specially designed for Hawaii's unique water mineral composition. Aloha Water Company also offers the Oasis Aqua Bar bottle-less water cooler, available in Filtration or Reverse Osmosis (Purification) configurations.